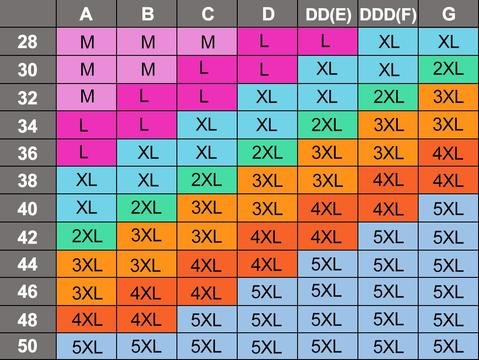 All-day comfort with high support, get yours only with 50% OFF!
Choosing the right bra has always been a problem for women. This Push Up Comfort Bra is made of breathable, soft material, which ensures the ultimate wearing comfort. The bra has removable soft cups and an elastic back without closure. It keeps you supported, sweat-free, and comfortable throughout the day! Made from natural latex extracted from rubber trees without any synthetic fillers blended in, the 5D molded foams lift your girls with exceptional cushioning comfort, breathability, and softness that prevents chafing and skin irritation.
This Push Up Comfort Bra supports and contours your girls using wide cushioned straps, high side wings, and U-shape back panel against sagging. With stretchy fabric that breathes and moves with you, it will conform to your curves while smoothing bulges for a sleeker, perkier silhouette!Say goodbye to embarrassing bounce with the new Push Up Comfort Top Bra. Perfect for all your low and higher-impact activities, this push-up bra will get you out of your t-shirt and into your exercise routine or simply wind down on the sofa in all comfort.
No more stretch marks
Stay comfy during your whole day
Today's exclusive offer, Buy 1 Get 2 Free bras
Gives your breasts the support that they deserve
Feel at your best during activity
Our new Push Up Comfort Top Bra is the ultimate workout bra that will hold everything in place firmly so that you can focus on your movement. Whether it is at the gym or during yoga. No more stopping to adjust your bra! You will be able to perform at your best without any worries!
All-day comfort
Our high-quality fabric dries faster than traditional fabrics. This means you can stay cool and dry all day with our Push Up Comfort Bra
FEATURES:
Maximum Support Lifting:
5D seamed cups provides instant sculpting of breasts shape and contour against sagging, creating a perkier, smoother shape with full support.
Smooth Out Bulges:
Corrects side breast, armpit fats and re-defines the contour of other surrounding areas including underarms and back for a flattering silhouette.
Complete Bust Coverage Figure Hugging Fit:
The design of 5D seamed cups, wide side wings, strong cushioned shoulder straps and U-shape back panel ensures complete bust coverage.
Wireless Comfort:
Without constant tugging like traditional wire bras, the wireless design still provides adequate lift and support on your breasts with good stability and secured fit.
Cooling Breathable:
Made with natural latex and cooling ice silk fabric that is breathable and moisture-wicking with high elasticity, maintains your body sweat- and odor-free, ensures all-day freshness and comfort even in hot weather.
Removable Pads:
Grants you more comfort with removable pads design.
Seamless Invisible:
Light, modern and invisible under all clothing and style, even for tight clothing.

Machine-Washable
SPECIFICATIONS:
Material: Latex, Cotton, Nylon
Colors: Pink, Beige, Lime Green, Gray, Black
Package Includes:
– 3x Push Up Comfort Bra
Due to going viral on TikTok, our stock is running out faster than expected. Because of this we are often sold out so get your Push Up Comfort Bra (BUY 1 GET 2 FREE) while it lasts!