"It was an instant decision when I saw it, just had to get it!! Arrived earlier than promised and I couldn't be happier. Works exactly as advertised, can't wait for Halloween tho I admit it's in use already."

Multiple uses, multiple occasionsHighly diverse purpose mask used for any occasion. Halloween,Christmas, Concert/Rave/club, and Back to School
You can customize any picture you want!One mask, only your imagination is the limit!Impress & scare literally everyone
This mask is for people who really love attention and impressing people; get this mask and wow reactions, compliments, and envy questions are guaranteed!
Free app for iPhones & AndroidsHow to customize your own look
This is what differs this mask from any other sold; you can customize the scary face with a phone app. Your imagination is the only limit…You can upload your own photos on the app and use them in real-time with the mask; yes, it's perfect for black humour lovers…This feature makes it also priceless, because it offers fun around the year, not only for Halloween.How to use the app?
Scan the QR code from the package or search "Shining mask" from your phone's app store.
Install the app & connect the mask with Bluetooth
Start playing & trying ideas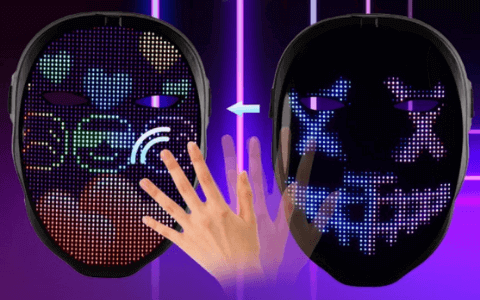 App Android App Change look in the blink of an eye by swinging hand This is what makes it extremely rare:
The most unique feature we think is that you can actually change the look just by waving your hand in front of the sensor! This feature makes this mask extremely rare, guaranteed you won't find mask this cool from anywhere else.
Frequently Asked
45+ ANIMATED FACES TO CHOOSE FROM
75+ KINDS OF STATIC PICTURES TO CHOOSE FROM
RESPONDS TO MUSIC OR THE MIC ON YOUR PHONE!
ADD YOUR OWN TEXT!
Does it work with my phone?
It works with all iPhones & Androids.
How long does the battery last?
Up to 12 hours with a single charge.
Can I use any custom photos with the mask?
Yes, no limits. It's perfect for joking around or scare people!
How long is the offer valid?
As long as the sale continues or we run out of current stock.
Sounds crazy? That's how sure we are you'll fall in love with it.
Withstands years, feels good to wearUsb Charge Specifications
2000mAh battery built-in battery for use up to 12h with a single charge
Sized 7″ x 7″ x 2″ / 22 x 18 x 5cm, adjustable fit, fits all faces
LED lamp beads: 2074pcs
Pixels:46*58 (irregular)
Material: ABS+PVC lens+Silica gel
Rechargeable Package Includes:
1 x Bluetooth Mask
1 x Type-C charging cable
1 x English Manual
Material: PVC
Operation: Powered by 2 x AA Batteries (Not included)
With Battery Package Includes:
1 x LED Halloween mask (8.5 x 7.2 inch)
1 x Power pack
1 x Instruction Friendly